---
Venue Address
245 West 52nd Street
New York, NY 10019
(New York)

View Map
---
Venue Information and Details
Parking Details
Garages available in the surrounding area.
Phone Details
None
Open Hours Details
The August Wilson box office is closed until further notice.
Will Call Information
Available at Box Office during regular hours.
For full information about the will call policy at the August Wilson Theatre please call the venue.
Accessible Seating Info
All entrances to theatre seating require stairs, however, there is an entrance via a Stair Lift that provides direct access from the entrance on 52nd Street to the Orchestra level. A person does not have to be confined to a wheelchair to use the lift, however the Stair Lift does have a weight capacity of 500 pounds. A uniformed porter on duty in the Outer Lobby will usher you to the Stair Lift. If the porter is not present in the Outer Lobby, please ask the Box Office personnel to contact the manager. The porter will be available to operate the lift before and after the performance. Orchestra Location: Seating is accessible to all parts of the Orchestra via steps or stair lift (see above.) There are 8 steps down to the lobby from the main entrance and 25 steps up from there to the orchestra level. Wheelchair/accessible seating is in the Orchestra only. There is an accessible restroom located near the Stair Lift in the Orchestra. Mezzanine Location: Located on the 2nd level: up 16 steps from the Orchestra. There are an additional 6 steps up from the Mezzanine lobby to the Mezzanine entrance (located behind row E), and an additional 19 steps up to the remainder of the Mezzanine. There are approximately 2 steps up/down per row. Please note that there is no elevator, and no stair lift access to the mezzanine level. Accessible Restroom: There is an accessible restroom located near the Stair Lift in the Orchestra.
Children Seating Details
Mean Girls is recommended for ages 12 and older. Children under 4 will not be admitted. Everyone requires a ticket for entry.
August Wilson Theatre Seating Chart
This seating chart for the August Wilson Theatre is an approximation of the seating arrangemnt at the venue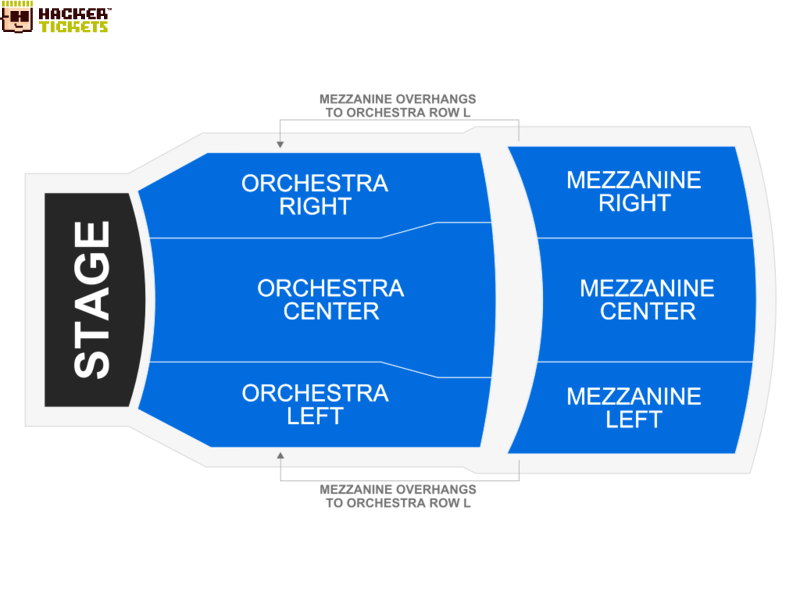 ---
Upcoming Events
A list of the next upcoming events playing at the August Wilson Theatre - New York.
Other Venues Like This