---
Venue Address
248 W Fremont St.
Stockton, CA 95203
(California)

View Map
---
Venue Information and Details
General Info
*NO SMOKING *NO RE-ENTRY *NO CAMERAS *NO VIDEO/AUDIO RECORDING DEVICES *NO LASER POINTERS *NO OUTSIDE FOOD OR BEVERAGES *NO OVERSIZE SIGNS *NO OBJECTS THAT CAN BE CONSIDERED A WEAPON *NO ILLEGAL SUBSTANCES *ANY ITEM DEEMED UNACCEPTABLE BY ARENA MANAGEMENT
Open Hours Details
10:00 AM to 4:00 PM Monday through Friday. CLOSED on Saturday-Sunday If an event falls on a day that the ticket office is normally closed, the ticket office will open three hours prior to the event time and remain open until one hour past the scheduled event time.
Will Call Information
Will Call is located at the North Entry to the arena. The Will Call door opens ½ hour prior to door time. Will Call is available during regular Ticket Office Hours at the Stockton Arena Ticket Office. When picking up Will Call, all patrons must have ID and the Credit Card used to purchase the tickets.
For full information about the will call policy at the Stockton Arena please call the venue.
Accessible Seating Info
Accessible Seating is available on all levels of Stockton Arena. Interpreting Services: Guest requiring interpreting services must contact Guest Services at 209-373-1400 within two (2) weeks of the scheduled event. Service animals for disabled patrons is permitted.
Children Seating Details
Any child who has celebrated their 2nd Birthday must have a ticket, regardless if they will occupy a seat. This policy is for all events unless otherwise noted.
Stockton Arena Seating Chart
This seating chart for the Stockton Arena is an approximation of the seating arrangemnt at the venue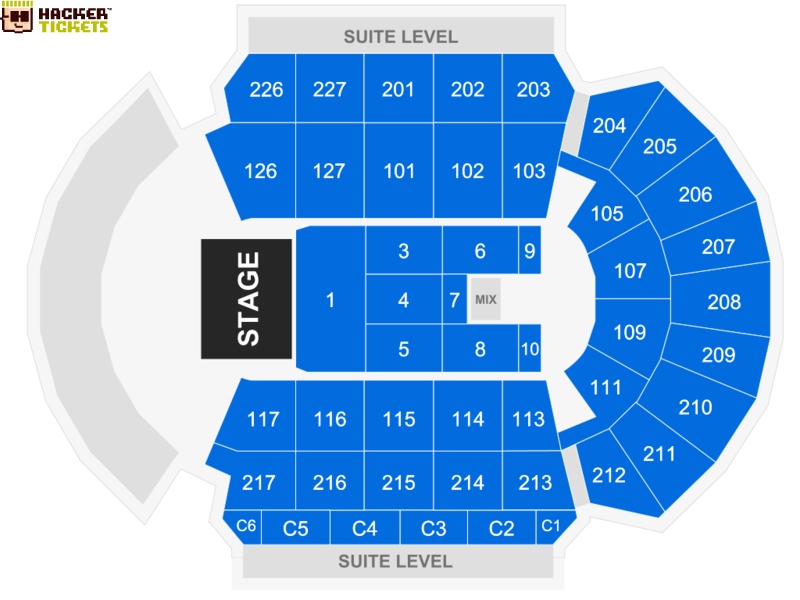 ---
Upcoming Events
A list of the next upcoming events playing at the Stockton Arena - Stockton.
Other Venues Like This