---
Venue Address
400 Iris Lane
Highland Park, IL 60035
(Illinois)

View Map
---
Venue Information and Details
General Info
Ravinia's Quiet Listening policy We request that audience members refrain from talking during concerts, and avoid making other disturbing sounds. Please exercise control over children to prevent disturbance to other patrons. Cellular phones and pagers should be turned off before the start of the concert.
Parking Details
Located at 200 Ravinia Park Road, Highland Park, IL. For extra convenience, consider using the Park 'N Ride locations. $20 for pop and jazz $10 for classical concerts in the pavilion FREE for Martin Theatre, Kraft Kids Concerts and dance Lot opens one hour prior to published park opening time The lot can accommodate 1,800 cars and can reach capacity quickly. When filled, cars will be directed to a Park 'N Ride lot
Phone Details
847-266-5100
Open Hours Details
Monday - Saturday: 9:00 AM - 6:00 PM Sunday/holidays: 12:00 noon - 6:00 PM
Accessible Seating Info
FULLY ACCESSIBLE. Contact Box Office. 847-266-5100 All facilities at Ravinia are wheelchair-accessible. Each performance venue has designated spaces for patrons in wheelchairs and their companions. Advance reservations are requested to prevent disappointment in the event of a sold-out performance. Please contact the box office at 847.266.5100 for reservations. Please note that Ravinia does not have wheelchairs available for rent.
Children Seating Details
Children under seven are not permitted in reserved seats in the Pavilion.
Ravinia Seating Chart
This seating chart for the Ravinia is an approximation of the seating arrangemnt at the venue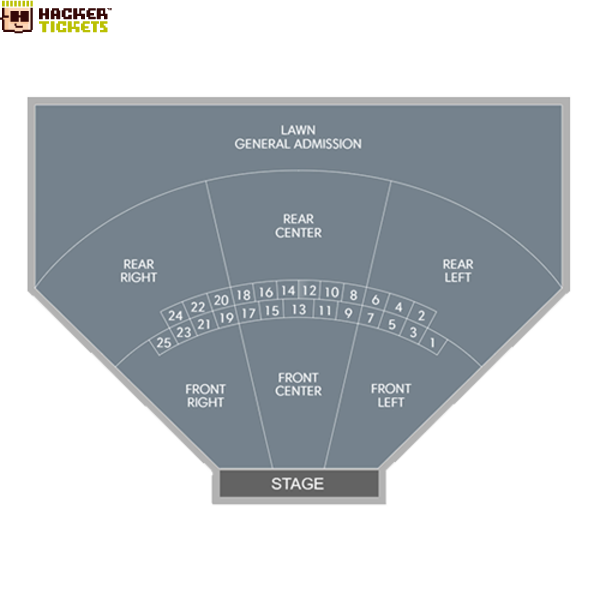 ---
Upcoming Events
A list of the next upcoming events playing at the Ravinia - Highland Park.
Other Venues Like This