---
Venue Address
2801 N Mesa
El Paso, TX 79968
(Texas)

View Map
---
Venue Information and Details
General Info
Cameras and Video Equipment may be restricted. No outside food or beverages are allowed. No smoking allowed in the building.
Parking Details
Free parking. During classes parking may be limited.
Phone Details
Phone numbers are not provided for further event related information. Event questions will be handled by Ticketmaster outlet or phone sales agents. Outlets are a walk up service only, those employees are not authorized to give event information by phone. Group Sales - 915-747-5234
Open Hours Details
University Ticket Center Mon.- Fri. 8:00am-6:00pm Sat. 8:00am-4:00pm Extended Hours Per Event Basis Doors Open: 1 hour prior to event
Will Call Information
Available during business hours at University Ticket Center. Picture ID and the credit card used to order the tickets will be required.
For full information about the will call policy at the Don Haskins Center please call the venue.
Children Seating Details
Children 2 years and older must have a ticket. This age limit may vary depending on the event.
Don Haskins Center Seating Chart
This seating chart for the Don Haskins Center is an approximation of the seating arrangemnt at the venue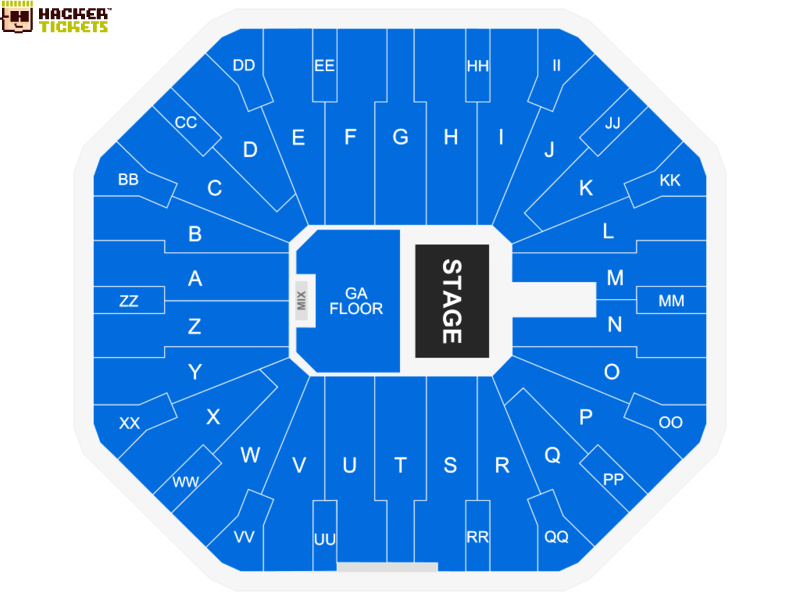 ---
Upcoming Events
A list of the next upcoming events playing at the Don Haskins Center - El Paso.
Other Venues Like This